Project Welcome Home was first conceived by a group of Vietnam veterans who reunited with their trusty B-52 at Paine Field in Everett, Washington. Led by Museum of Flight Trustee Jim Farmer, the Project Welcome Home committee represents a diverse group of individuals who wanted to create a place where the public can learn about, reflect on and remember the aircraft of the Vietnam War and the people who flew them.
Support Project "Welcome Home"
Founding Committee Members
Mike Brown
Mike Brown grew up in Sandpoint, Idaho and graduated from the US Military Academy in 1966. He volunteered to serve in Vietnam and was commissioned as a 2nd Lieutenant in Field Artillery. Mike served two tours in Vietnam: the first was an Artillery Forward Observer in a U.S. Infantry Rifle Company, where he saw combat during the Tet Offensive of 1968; and he flew a Bell AH-1 Cobra helicopter during the North Vietnamese Spring Offensive of 1972.
After leaving the Army in 1973, Mike embarked upon a career in manufacturing management in the pulp and paper industry. After retiring in 2006, he lives with his wife Mary in DuPont, Washington.
---
Joe Crecca
Joe Crecca was born and raised in New Jersey, and graduated in 1962 with a B.S. in mechanical engineering from Newark College of Engineering. He completed undergraduate pilot training and flew McDonnell F-4C Phantoms during the air strikes of Operation Rolling Thunder near Hanoi. Joe's Phantom was shot down by a Russian surface-to-air missile in 1966; he was captured and spent over 6 years in Hỏa Lò Prison, referred to by POWs as the Hanoi Hilton.
After repatriation, Joe left the US Air Force in 1978 and joined the air cargo industry. He flew for the Flying Tiger Line and FedEx before retiring in 2005. He lives with his wife Joan in North Bend, Washington.
---
Jim Farmer
Jim grew up on Long Island, New York and graduated from Adelphi University in 1969 with a degree in Business Administration. He entered the US Air Force Officer Training School, and later completed Undergraduate Pilot Training. He was assigned to pilot Boeing B-52 aircrafts, and was a member of the Strategic Air Command during the Vietnam War. On his second rotation, Jim was shot down by a missile during Operation Linebacker II; upon being rescued, he completed two more rotations as an Aircraft Commander.
After completing his service, Jim moved to Seattle to begin a 35-year career in the investment advisory industry. He is very involved in community work, and sits on the board of the Boy Scouts of America, Rotary Club and The Museum of Flight. He lives in Bellevue with his wife Lynn, and has two sons and a grandson.
---
Carl Hanson-Carnethon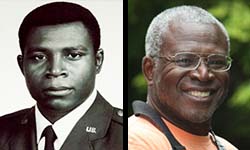 Carl grew up in the town of Holt, Alabama outside Tuscaloosa. He attended Tuskegee Institute for two years before he transferred to the University of Alabama and earned a degree in Commerce and Business Administration. Carl was drafted into service in 1969 and became experienced as a navigator, radar navigator, navigator on reconnaissance aircraft and as a management analyst. Carl was a navigator on the crew of the B-52 "Midnight Express" in Operation Linebacker II in 1972 during the Vietnam War.
Today, Carl lives with his wife Kimberly in Bellevue; they have one daughter and two grandchildren.
---
Dave Williams
Dave grew up in Los Angeles and attended the University of Washington on a Navy ROTC scholarship. After graduating with a degree in economics in 1964, he pursued flight training and flew Douglas A-4 Skyhawks in Attack Squadron 76, where he completed over 100 Vietnam missions between 1964 and 1967. He transitioned to flying Grumman A-6 Intruders for Attack Squadron 165, and completed an additional 74 missions before 1970.
Dave earned an MBA from Stanford in 1972. He worked in the banking industry and spent most of his career with Rainier Bank. He lives in Seattle and has two sons and four grandchildren.
Additional Committee Members
Dave Cable, Navy
Carter Harrington, Navy
Milton A. Reimers, Jr., Air Force

Dave Waggoner, Army

Bill Wilson, Air Force
Dave Wellman, Air Force

---